Welcome to the
Oakbrook Terrace Historical Society

---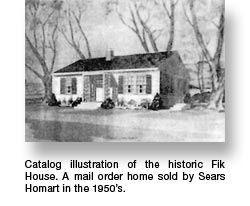 As the Oakbrook Terrace Historical Society continues to grow, and the interest in our efforts builds we will strive to maintain our vision to preserve our historical past by:
Bringing together people who
are interested in the history of
Oakbrook Terrace
Acquiring, collecting, preserving and displaying documents, photographs and other items relevant to the history of the Oakbrook Terrace area
Publishing and disseminating materials and information relative to the history of the Oakbrook Terrace area
Operating an archive and museum
We are Open Wednesdays from 1:00 - 3:00 p.m.
or contact Bob Shanahan for other times available.
The Historical Society Board meets on the third Wednesday
of each month at 7:30 pm at the Historic Fik House (17W245 16th Street).
The Oakbrook Terrace Historical Society is a non-profit tax-exepmt 501c3 organization chartered in 2011.


---
Our New Sign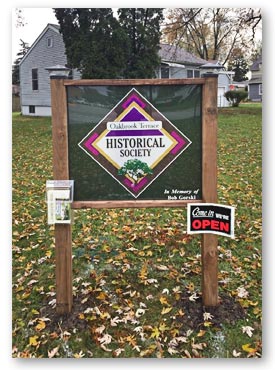 ...at the Oakbrook Terrace Historical Society!

---
A Brief History of Oakbrook Terrace, Illinois
Oakbrook Terrace is located about 20 miles west of Chicago's Loop in DuPage County in Illinois. It is a small residential and commercial city, covering approximately 1.8 square miles.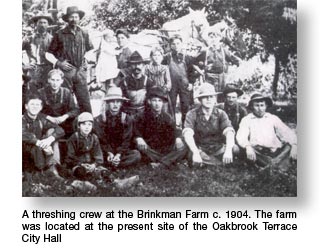 Native Americans entered the area that became Oakbrook Terrace as early as five thousand years ago. When the last of these peoples, the Potawatomi, were forced to move westward in the early 1830s, white settlers, mainly of English and later German extraction, established homesteads in the Salt Creek area.
A combination creamery and cheese factory was built by Albert Knapp at what was called "The Corners" in 1873. The community that grew up around the Corners—now Butterfield and Summit Roads—came to be called Utopia in 1881. The area remained agricultural well into the twentieth century.
Suburban growth began soon after World War II, when the community was subdivided. Commercial development was started along two major east-west thoroughfares, Roosevelt Road and 22nd Street. At the time of its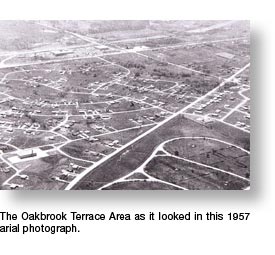 incorporation in 1958, Utopia included in its acreage the proposed site of a large shopping center, but neighboring Oak Brook annexed the center and its commercial properties with state approval in 1959. That year, a disappointed Utopia changed its name to Oakbrook Terrace, indicating its proximity to the soon-to-be Oak Brook Shopping Center.
In the 1980s, the community rapidly developed its commercial areas, including construction of DuPage County's tallest office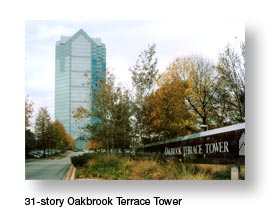 building, the 31-story Oakbrook Terrace Tower near Routes 38 and 83. Also during that decade, Drury Lane Theatre, a popular dinner playhouse, was built. Lincoln Centre, a large office complex, was constructed along Butterfield Road in the 1990s. By 2000, when population reached 2,300, most of the city's available land had been developed for either residential or commercial purposes.